In the G10 currencies, the top gainer is AUD, up 0.39% versus USD. CHF is the top G10 loser down 0.27% versus the dollar. EURUSD failed to make sustained gains following Draghi slightly dovish speech; he said that Euro strength could weigh on inflation and that further evidence is needed that inflation is moving in the right direction. ECB's Coeure, Praet, and Angeloni have also spoken this morning and they all have been dovish. In the Equities space, the Nikkei 225 has closed lower by 0.87% at 21,777 and Asian equities have also had a bad day following on from a weak session in the US equities thanks to the Trump's firing spree. The European equities have so far been mixed with FTSE at -0.1%, DAX at +0.1% and CAC at -0.1%. In the rates market, the US and Bund 10-year yields are on a decline since Monday with US 10-year at 2.84% and the Bund 10-year yield at 0.62%. In the energy space, the Brent front month is trading at $64.64, after failing to break $66.0 handle for the second time this week. In terms of data, the Swedish headline inflation rate has come in as expected at 1.6% while core inflation has missed expectations (0.7% vs 0.8% expected); despite this SEK has strengthened. Looking ahead, US retail sales and PPI remain the key data release due at 1230 GMT.
USD-Index Daily chart (2-month)
Brent Front month Daily chart (2-Month)
Trade weighted basket Hourly chart (1-Week)
Major Currency Pairs
EURUSD Chart (Two-week)
Strategy: Support at 1.2336 for 1.2432
Short-term view:
EUR/USD has support at 1.2336 and MACD has entered positive territory. Hence, expect a bounce to 1.2432. Below 1.2336 to open 1.2289.
GBPUSD Chart (Two-week)
Strategy: Resistance at 1.3993 for 1.3900
Short-term view:
GBP/USD has resistance at 1.3993 and momentum on daily chart is still weak. Hence, we may see a dip to 1.3900. Above 1.3993 to open 1.4028
USDJPY Chart (Two-week)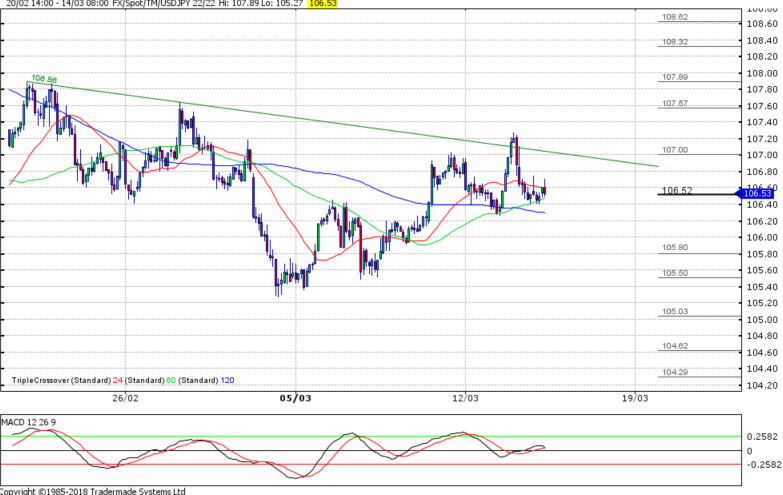 Strategy: Resistance at 107.00 for 105.80
Short-term view:
USD/JPY resistance line comes in at 107.00 and short-term momentum is still weak. Hence, we may see a dip to 105.80. Above 107.00 to open 107.57
AUDUSD Chart (Two-week)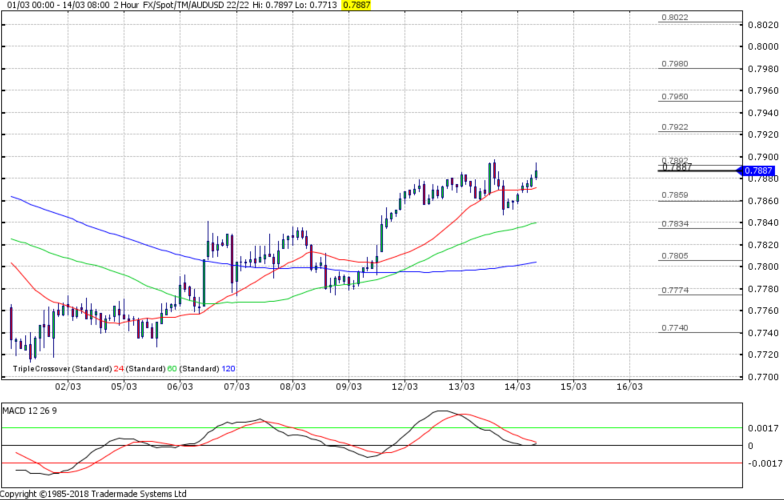 Strategy: Resistance at 0.7892 for .7859
Short-term view:
AUD/USD has resistance at .7892 and short-term moving averages are stalling. Hence, we expect a dip to .7859. Above .7892 to open .7922